CARNAVAL LATIN CRUISE 2016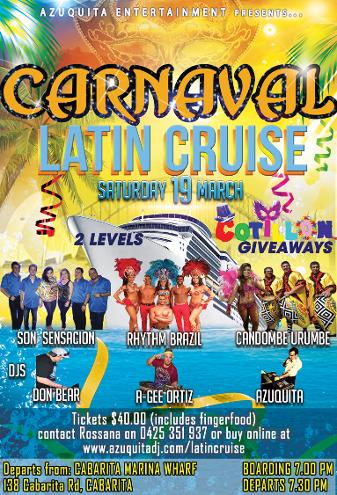 FINGER FOOD INCLUDED:
1. Platter of Corn & Chips & Tomatoe salsa
2. Antipasto Platter
3. Crumbed Prawn cutlets with cocktail /
tartate sauce.
4. Salt & papper squid
5. Cheeze pastizzi
6. Chicken skewers
7. BBQ lamb skewers olive aregano
8. Char grilled meatballs and sauces
9. Vietnamese spring rolls
10.Seasoned potatoe wedges served with
Sour cream & sweet chilli sauce.

CARNAVAL LATIN CRUISE 2016!!!
Saturday 19th March 2016
We bring you again the biggest Latin Cruise
Entertainment, line up to celebrate Carnaval!!!
THIS WILL BE A SOLD OUT EVENT!!
With the biggest Latino Entertainment line-up...


Son Sensacion "Salsa Band"
Rhythm Brazil Show
Candombe Urumbe Show
DJs: Azuquita - A-Gee Ortiz - Don Bear
2 Floors of incredible Carnaval & Non stop
dancing!!...
with Cotillon giveaway's, of party mask's, leis, hats,
whistles, serpentine and lots more...
SOLD OUT!!
"
"CARNAVAL LATIN CRUISE 2016"
VIDEOPROMO
Cruise departs from:
Cabarita Whar, 138 Cabarita Rd, CABARITA
Boarding 7:00pm -
Departs 7:30pm cruise back by 11:30pm