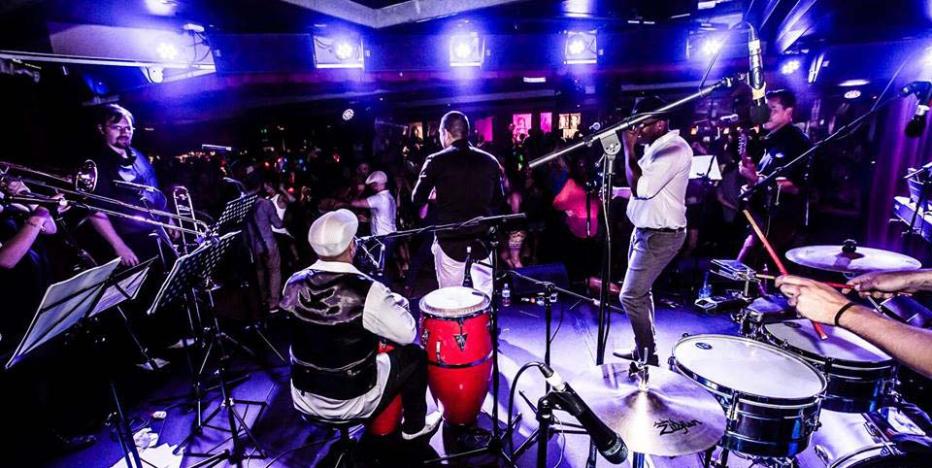 Club Havana Band or 'la BOMBA de Sydney' as they are affectionally called by their
ever increasing fan base is considered to be the one of Australia's premiere
ensembles, playing Timba, Salsa, Son, Songo, Cumbia, Cha cha cha and Boleros.
They are particularly known for their fiery original repertoire. They are considered to
be Australia's Premiere Salsa outfit (recipients of the Darling Harbour Alex Vidal
Award for excellence in 2009). Loren Alain Le-Feuvre (director of the band) explains:
'when you hear & see us play you have to dance, no matter whether you are a
timbero, salsero, cumbiambero, rumbero, or none of the above – you will find the urge
to move your feet & hips irresistible!!' The group has performed extensively
throughout Australia aswell as numerous TV & Radio appearances, & in recent years
has worked and performed overseas.
Genre: Salsa, Timba, Merengue, Cha cha cha, Cumbia, Boleros

Band Members:
Loren Alain - MD percussion/vocals
Evelyn Ruiz - vocals/maracas
Oscar Flores - vocals/guiro
Oliver Castro - vocals/guiro
Fabian Fuste - timbales/kit
Steban Galeano - bass
Francisco Lopez - piano
Paul Weber - trombone
Rose Foster - trombone
Matt Collins - trumpet